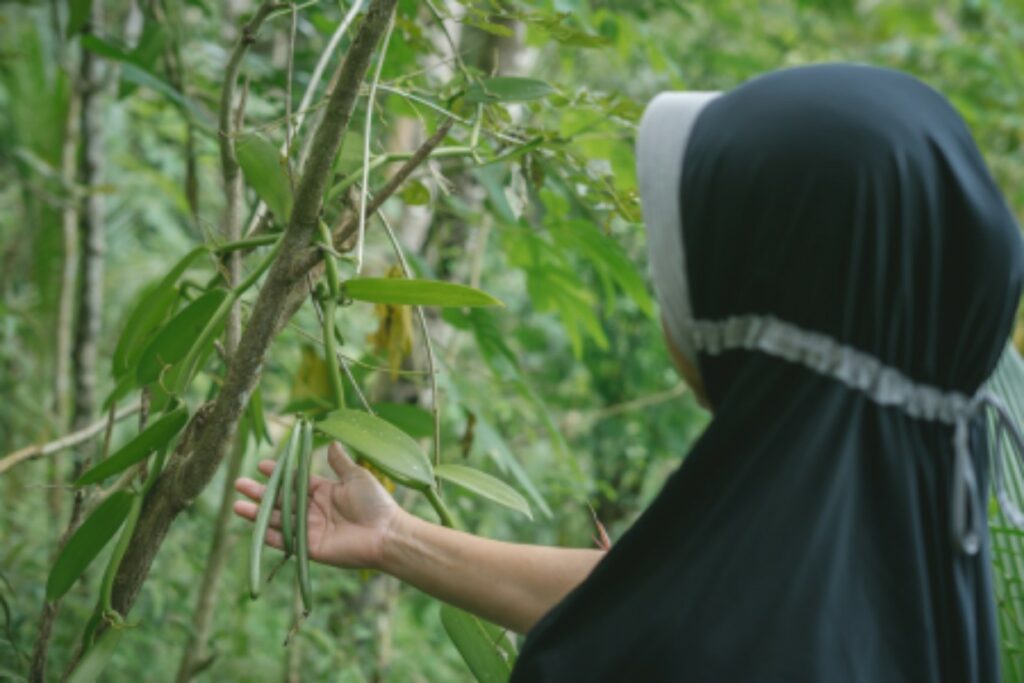 Aliet Green is currently in collaboration with Vanilla Bean Project, a company based in the US, selling vanilla products that represent the wholesome goodness and caring in customers' recipes.
Aliet Green creates the first additional incentives for female coconut farmers by developing and producing a new crop such as Vanilla. We provided the best vanilla vines cuttings, training from vanilla experts and other supporting materials to grow Regenerative Organic Vanilla Beans.
We started with being the first hand in selling Indonesian Vanilla Beans in Regenerative Organic practices.
Vanilla is definitely a very good intercropped with coconut trees, spices (ginger, turmeric, mango ginger), durian, mangosteen and coffee trees in agro-forestry areas.
In the long term, Aliet Green plans to expand Regenerative Organic Vanilla Beans to be the second main income besides Regenerative Organic Coconut Sugar. Aliet Green's Regenerative Organic Vanilla is grown in agro-forestry areas not in green houses or in plantation. This makes our Regenerative Organic Vanilla Project so unique and rich in flavour and helps increase biodiversity.
The harvesting is done by female farmers carefully and manually to be further cured and processed at Aliet Green's facility harnessing IIOT system in place.
If you are familiar with high-quality Regenerative Organic Coconut Sugar produced by Aliet Green, therefore, you will receive the same high-quality Regenerative Organic Vanilla Beans from us.
For further information, you may click this link on how our Regenerative Organic Vanilla Beans have been recognized by Regenerative Organic Alliance in the US:
https://www.linkedin.com/posts/regenerative-organic-alliance_regenerativeorganic-activity-7095137122512162816-3Lhc?utm_source=share&utm_medium=member_desktop
#regenerativeorganicvanillabeans #regenerativeorganialliance #thefirstregenerativeorganicvanillabeansfromIndonesia